Get Your Confidence in 2 Weeks!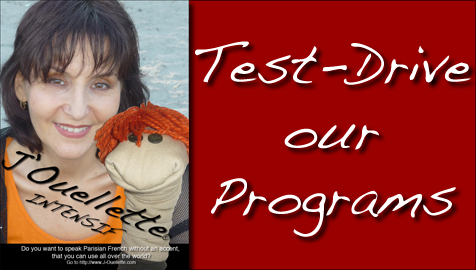 We are thrilled to offer you this amazing Option.
While you are planning your registration for the Full Intensive Program, you would like to experience J'Ouellette method and program before you commit to a long term learning system.
We offer you 2 modules of our Accelerated French method, which give you all the vocabulary, grammar, reading, pronunciation and ear gymnastics needed to be able to get a head start into mastering the French Language, as well as assess our Intensive and Extensive programs. Test-Drive our program and Save up to $220!
Here is how it works:
STEP 1: Register for the Test-Drive below (you have no obligation to register for the full program);
STEP 2: You will receive in your inbox the links and password to access the first 2 (two) modules of the J'Ouellette® Intensif program;
STEP 3: You will receive an invitation to the live group Tele-seminar, including the day, time and necessary credentials.
That's it!
J'Ouellette® Intensif Test Drive (2 modules: 13 Lessons)

- $7.60/lesson
- 11 videos* (Module 1: 5 Lessons & 1 Review | Module 2: 4 Lessons & 1 Review)
- 2 weekly Live group Tele-seminars** where Llyane will answer all your questions and guide you through the module
- Reading, Grammar, Dictée, Exercices (text and voice reading, including solutions), Ear Gymnastics, Conversation

______
* Lifetime access to the videos

$99.00
$198.00
NOTE:
1. Please listen to the videos in order, do not skip any; the material of each lesson builds onto each other.
2. Please read the text of the lesson before you hear my reading (pause the video and discover the pronunciation on your own), then listen to my reading to correct any mistakes.
3. The exercises and verb conjugations are to be done in writing – it is a very good exercise that enforces the new habits and reverse-engineer the pronunciation, helping you to visualize the spelling while you speak.
4. The dictée is to be done in writing, corrected by you with a different color, and we will discuss the errors found in the tele-seminars.
What to do Next
After the Test-Drive, when you Register for the Full Program, the price will be prorated (these two modules will be excluded from the price) AND you will take advantage of our Existing Student Special Pricing, 5% OFF of the entire program. This will be for you a total saving of $120 for J'Ouellette® Intensif and $220 for J'Ouellette® Extensif.
I'm so excited to embark on this amazing journey with you!
Cordialement,
Llyane
______
P.S.
You already know that you want to register for the real thing? Go to the J'Ouellette® Intensif page.